Our Napa and Sonoma Tours  are available from San Francisco  by Van, SUV, Limo and or  by bus for all  charter tours to California wine country. Our daily private and group tours to  Napa and Sonoma leave and return to San Francisco. Other pick-up locations  can be arranged anywhere in San Francisco Bay Area and California wine country. Our wine tours to Napa and Sonoma valleys can also be offered all included depending on your choice and budget. This particular wine tour is recommended for wine lovers who have only one day to visit  California wine country. This tour is a panorama of both Valleys all in one day tour. For light wine lovers, you may require visiting few wineries and spend the rest of the day sightseeing the beautiful  wine country and  visit the best  Sonoma and Napa Valleys! Learn more….
Our Napa Sonoma Tours   are available by SUV or Limousine, by Bus for large group tours and by Van for small  group tours to Napa and Sonoma Valleys. Feel free to send us a travel request if you have a small or a large group . Our private SUV  tours are  recommended and can be booked directly online to save time and money. Limousines tours are also available  and can be booked online to get advantage of our online discounts. The Private SUV tours are the best way to experience the highlands of the wine country as you  drive through the mountains that separate  Napa Valley from Sonoma Valley. These scenic ranges   are called mount Vedeer and offer spectacular views over both Napa and Sonoma Valleys. You can get 10% off or more when you book a second private SUV or Limo  tour to California wine country . Our certified reviews witness our excellent service  and wine tours. We customize our wine tours according to your travel needs  and  budget so we meet your expectations!  Learn more about Napa Wine Tours…
Book a private SUV tour and travel with our certified tour guide to taste California's  best ancient wines and picture California  oldest ancient vines  in Sonoma Valley. Admire Sonoma old and unique  architectural style  monuments as you travel through the Valley of the Moon in  Sonoma Valley. You will also  visit the oldest  winery in California & taste excellent wines and sparkling wines. You can also enjoy an outdoor picnic lunch or  dine with style in the most celebrated restaurants in Sonoma Valley. Let us guide you through the historic Sonoma Valley wineries and we will exceed  your expectations!  Learn more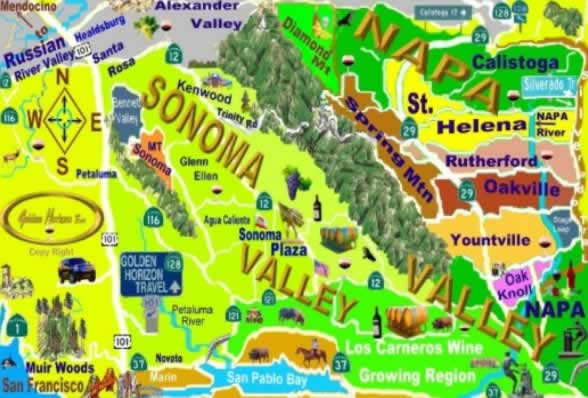 40% of  visitors  who make San Francisco and the wine country their destination  are either light wine  drinkers or  prefer sightseeing  rather than  spending 8 full hours tasting wines . Our tour guides noticed that and reported it to office which motivated us coming up with a new tour that offers  a combination of sightseeing and visiting unique wineries. This tour will offer you a discovery tour to the old faithful geyser in Calistoga, located in upper Napa Valley. Both couples and families with or without kids appreciate a lot this tour. This is a good opportunity to travel and sightseeing all Napa Valley wine growing region in one day tour combined with a side trip to the  old faithful geyser in Calistoga. Learn  more ….
Many visitors who travel to San Francisco for personal or business purposes choose to escape from the city to marvel at the Giant redwoods combined with a side trip to California  Wine country. The giant coastal redwoods are found in Muir Woods National park, named after the conservationist John Muir. The redwoods park is located  25 minutes drive from San Francisco Golden Gate Bridge. After marveling at the giant redwoods in Muir Woods national monument, we will travel north on highway 101 to California wine  country  where  you will taste your favorite wines and  champagne. Our tour guide will offer you quality time at the historic Sonoma down town where you will enjoy your lunch! Learn more...
Travel north to the Russian River Valley on a private  4X4 SUV with one of our certified and multilingual tour guides. The Russian Valley wine country is located  in Sonoma County , north  of San Francisco. The trip to  the Russian River Valley  is also a pleasant drive  in the  picturesque Russian valley and along the Russian river. You will see the famous coastal Redwoods along the Russian river and enjoy sightseeing the Russian valley as we drive from winery to another. The Russian River Valley wineries offer a wide variety of both wines and sparkling wines.Learn more about our daily private and group tours to the Russian River Valley wine country….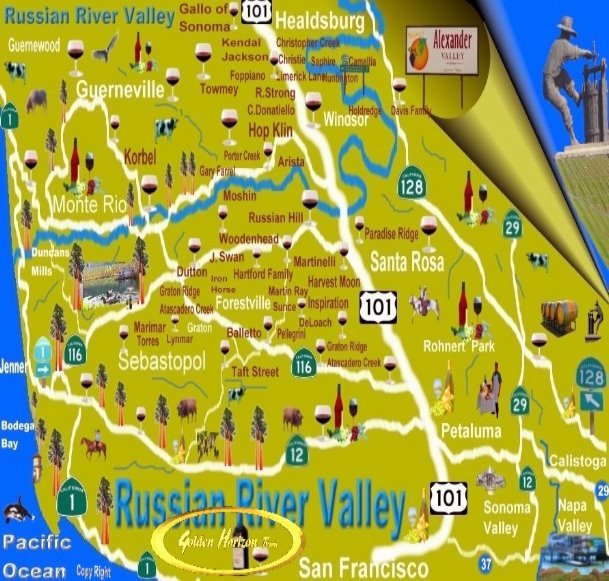 Some may not be in favor of waking up early to  catch a  Hot Air Balloon flight   over Napa Valley. Others who decide to experience this thrilling adventure wish they could do it before! Why waiting? Join us and  you will be amazed and pleased  by this unique experience as the hot air balloon rises gently  above Napa Valley! Join our  Hot Air Balloon  to  witness the beauty of the dawn as the sun starts  rising  smoothly through the mountains. Observe  the spectacular views that profiles through the horizon over Napa Valley and the surrounding scenic peaks. Enjoy the tranquil  beauty of  California's best wine country and make your best photos in the middle of some colorful hot air balloons rising at the same time over the scenic vineyards of Napa Valley.  Let us exceed your expectations now!
Alexander Valley and Dry Creek wine trail are almost unknown to classic visitors to San Francisco Bay Area. However, Alexander Valley and Dry Creek wine trail offer a different experience and a unique wine tasting tour through the countryside of California wine country. The Wine Trail that  runs through Alexander Valley and Dry Creek  wineries offers visitors a relaxing drive and an interesting way of wine tasting. Some wineries are famous such Francis Copola's Rosso &  Bianco winery while many other wineries are small and almost unknown. This offers wine lovers the opportunity to enjoy a personalized  wine tasting experience and meet with wine growers and sommeliers. Learn more about our daily wine tours to Alexander Valley and Dry Creek wineries.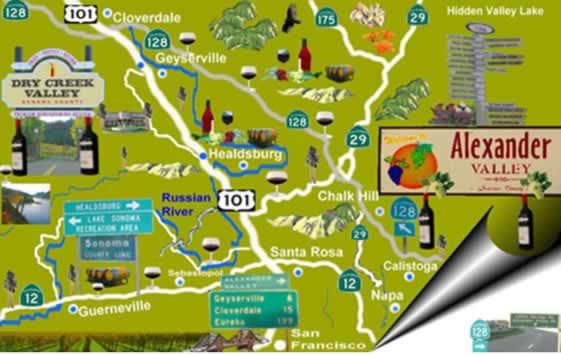 Visit Livermore Valley  and taste your  favorite red and white wines . Livermore Valley wineries  reminds some wine lovers of Napa Valley before it became so famous. Will Livermore Valley  become the second Napa Valley? No body knows at this point. Why don't you travel with our tour guides  to Livermore Valley wineries and judge by yourself?  Livermore Valley is located  on highway  580 and 680, about  50 minutes drive from  San Francisco  downtown . Livermore Valley wine tours  have been added on our website for wine lovers who are looking for a new  and a different  wine region  from Napa and Sonoma  Valleys. Learn more...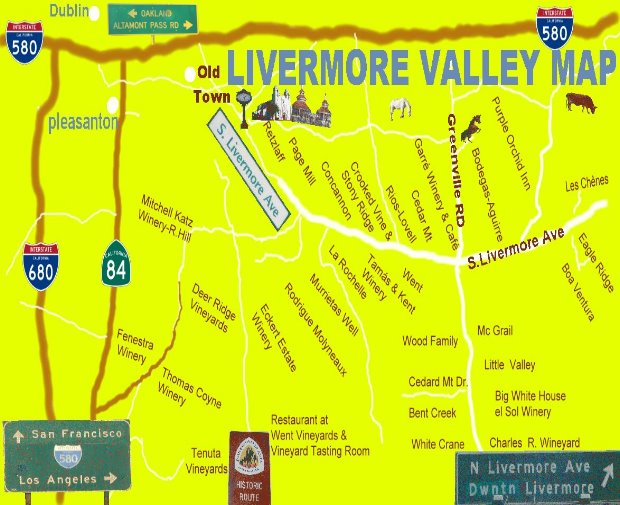 Many visitors to the wine country who have kids book our  private 4X4 SUV Tour to the Wild Safari located in Sonoma County. Inside  Sonoma Safari West, you will be escorted on a private  4x4 Jeep that will take you to a three full hours of adventure in this wild safari park. Our African Safari adventure will  take you  through  the mountains, the scenic hills and through the wild canyons where a variety of exotic  fauna and flora will  amaze you ! California- African Safari in Sonoma County  extends over  400-acres of  wildlife. You will be amazed by the Mammals of Safari West. You will see a number of wild animals including Safari Addax Antelope,  Black and White Ruffed Lemurs,  Aoudad, Blue Duikers,  Bongo Antelopes, Cape Buffalos, Blue Wildebeest, Chapman's Zebras, Elands, Gemsboks, Cheetah, Giraffes, Greater Kudu, Nyala,Ring-Tailed Lemurs, Scimitar-Horned Springbok,  Oryx, Warthog Waterbuck,  Cattle, Bongo, Oryx, Waterbuck and much more Learn more  
Travel with our professional tour guide to Lake County leaving and returning to San Francisco .This two day wine tour to Lake County is considered as an adventure that  combines wine tasting and sightseeing  the great wine regions located along the shorelines of lake county. Lake County wine country  wineries  are much smaller than those of Napa Valley. In Lake County  you meet with wine growers and wine makers and enjoy your wine tasting in the middle of picturesque vineyards. The wine tasting experience is a pleasant adventure and a relaxing way to experience the spirit of  the best kept secrete wine country in California. Learn more...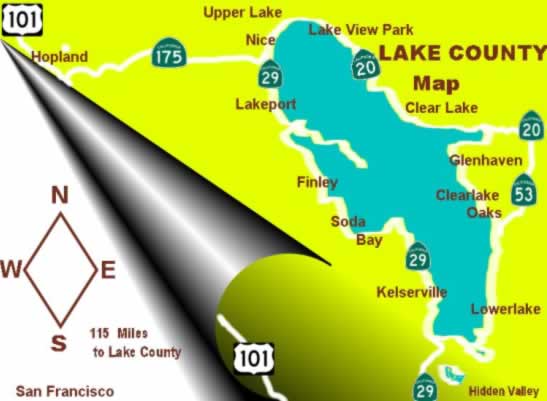 Let our tour guides  guide you through  Mendocino Wine Country where  you will travel on a private 4X4 SUV to  Anderson Valley leaving and returning to San Francisco. Anderson Valley wine trail will amaze  you with its small wineries and sparkling wineries. This is a relaxing adventure and an escape from the city  and business oriented wineries in Napa Valley. This wine tour to Mendocino Wine Country last 2 days . You may choose our Private Tour to Mendocino Wine Country including wine night at a local hotel in Mendocino. You may also combine Anderson Valley and Alexander Valley all in a two day wine tour. Learn more about our private SUV tours to Mendocino Wine Country